Corinne Whitaker Digital Sculpture
Corinne Whitaker, aka the Digital Giraffe, has been a pioneering artist in digital sculpture and painting for 36 years. Beginning with the Apple IIe in 1981, she has developed a signature iconographic style that is unlike any other. In the realm of digital sculpture, she began with 3D models designed to up-end the idea of sculpture as a hard-edged geometric construct and instead to introduce organic curved forms into the medium. From New Delhi to Paris, and London to Santa Fe, New Mexico, her unique creations have stirred imaginations and instigated heated discussions about what sculpture is and how it changes our view of the world.
Take a look at the newest bot with attitude. Called "Curiosity", it is made of frosted translucent polyurethane set into a custom-designed base.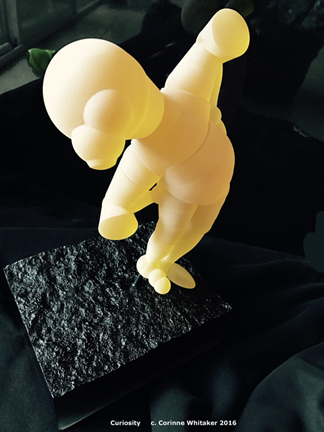 You might want to compare this with a 3D printed version of the same piece, made of stainless steel and bronze.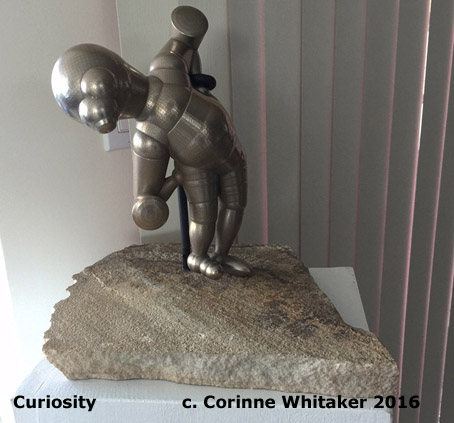 I thought you might like to see the evolution of another piece, called "Form Musicale". First, the model was created using a mock bronze finish in a powerful CAD program: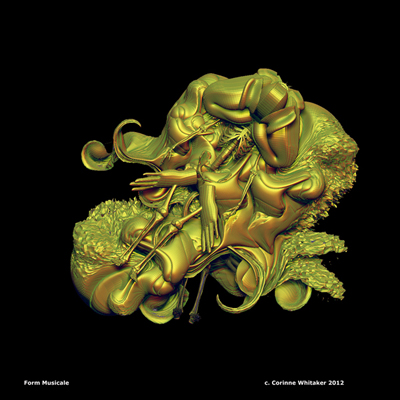 Next the sculpture was handcarved, molded, and cast in an industrial material using gypsum and cement. Note: I would have liked to have it cast in polished bronze but the cost was prohibitive.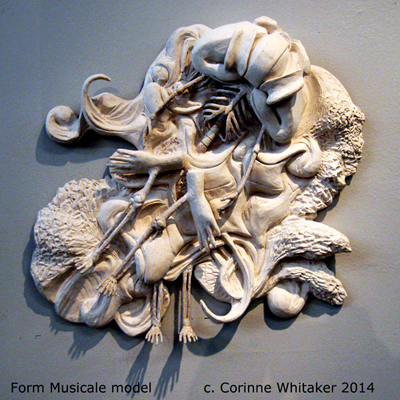 Finally, the model was clear-coated and a hanging armature secured to the back.
Now a view of how another piece was done. First a 3D model was created, some 15 years ago.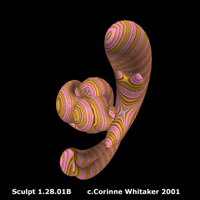 The final piece is called "Fondle" and weighs 62 pounds. Fabricated in 2012, it is made of a fortified gypsum cement with bronze powder and brown mason stain.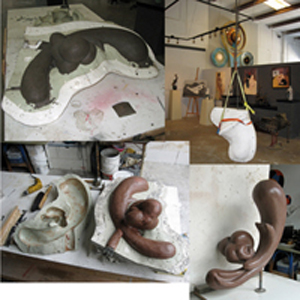 .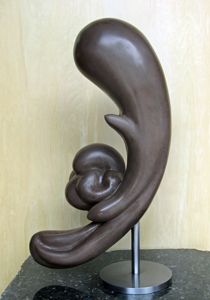 .
Another approach shows you a one-ton marble sculpture, created in CAD programs and hand-carved in China.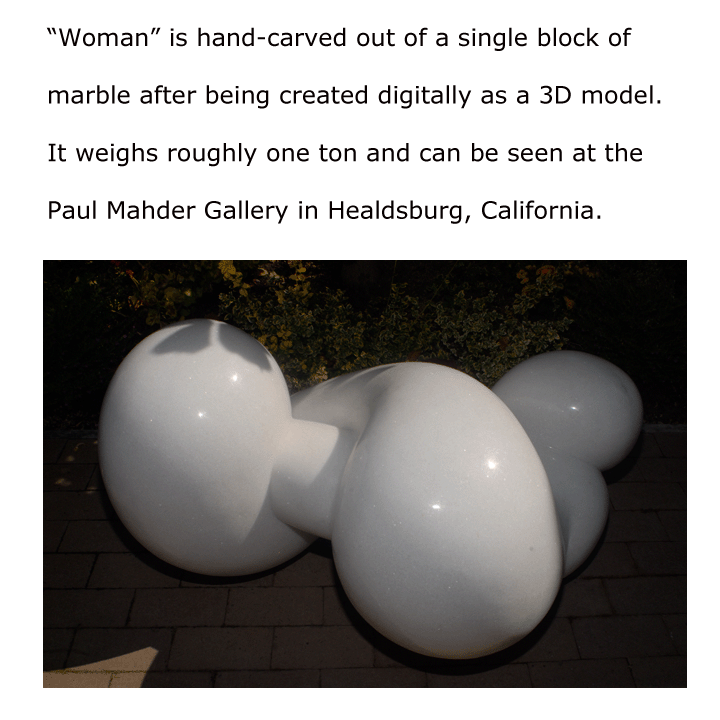 We show you now three ways of creating digital sculpture. First, some examples of the new Rapid Prototyping computer-to-computer milled work, including a brief description of how 3D printing works. Second, pieces that are digitally designed using CAD/CAM programs, milled into small prototypes, and then hand carved in a variety of materials, from a NASA-designed composite to bronze, from stainless steel to marble. And finally some of the 3D models, called "Blobs", which form the basis of all her work.
To see art, press each button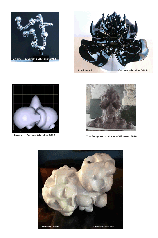 Rapid Prototyping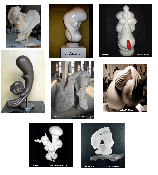 Hand Carving from Digital Models

Last updated December 15, 2015. 22 years of monthly Web publication

Artist, Editor and Publisher Corinne Whitaker