Corinne Whitaker lives in her imagination, works out of her studio in Foster City, California, and is known for using materials and creating forms never before seen. She has been a pioneering digital sculptor and painter for 36 years, has exhibited extensively all over the world, and welcomes over 185 nations to her award-winning Digital Giraffe eZine, now in its 23rd year of monthly web publication. She has also authored 23 books of digital paintings and poetry.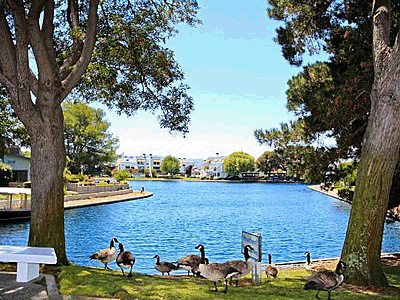 Call 650-212-2116 for an appointment and personal viewing.If she doesn't answer immediately, she is communing with the geese and listening to the wisdom of the water.
Bird tally from her patio: Red-breasted Merganser, common goldeneye, brown pelican, sanderling, double-crested cormorant,black-crowned night heron, common murre, anna's hummingbirds,(did you know that they sing with their tailfeathers?) snowy egrets, blue herons, coots, Canada geese, mallards, buffleheads, western gulls, least sandpipers, cackling geese, black scoters, western snowy plover, northern shoveler, lesser scaup, common eiders, dark-eyed junco, black phoebe, Brandt's cormorants, western grebes, and recently a white mallard. If you haven't seen one, they are gorgeous!
According to the Palo Alto Daily News, early settlers in Foster City were bothered by "menacing jackrabbits,...voracious rabbits,...swooping owls,...and nesting birds".