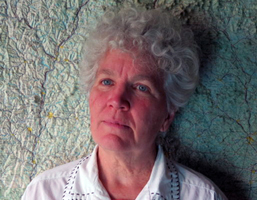 All About Women
Our Woman of the Month Award for December, 2019, goes to Michelle Holzapfel, exceptional wood carver, who just became a 2019 USA Fellow.
Note: Woman of the Month now has its own page in the giraffe.com archives section.
Creatives, like musicians, are forever called upon to try new approaches. Such is the case with "Les Sewing Sisters", who use sewing machines as their instrument. They have experimented with pieces like Ravel's "Bolero", using only the machines to re-sound everything from the melodies to the rhythm. Slicing is one of their processes, as is working with Garageband on an Apple computer. The Sewing Sisters are now adding voices, creating costumes, and performing to sold-out crowds in Los Angeles.

It may seem unbelievable in the 21st century, but so-called virginity tests are still being applied in at least 20 countries around the planet, in spite of being described as "unreliable, invasive, and sexist". The issue arose once again when Rapper T.I. announced that on every birthday he takes his daughter to an ob/gyn specialist to make sure she is a virgin. Not only are there no reliable tests to determine if a woman has had sex, but clearly the idea itself is sexist. T.I later tried to deny that he had any knowledge of patriarchy but the excuse was pretty lame.

History Today raises the issue of what women did when they had their periods in concentration camps. The reports make for devastating reading, like this one: "Many women have talked about how menstruating with no access to supplies made them feel subhuman. It is the specific 'dirt' of menstruation more than any other dirt, and the fact that their menstrual blood marked them as female, that made these women feel as though they were the lowest level of humanity."

The Guardian offers a discussion into the role of the clitoris and whether its function is more than pleasure-giving. Is that really a problem? Yes, it appears that the clitoris adds to reproductive functioning, but the real issue is whether female sexual pleasure needs a scientific justification.

A 13-year-old New York student has come up with a hyperloop design that appears to be both eco-friendly and economically feasible. Caroline Crouchley's idea is to build pneumatic tubes right alongside of current train tracks, eliminating the need for using diesel or electric motors or putting people into a vacuum tube. She won 2nd place in the annual 3M Young Scientist Challenge for her project.

A court in Barcelona acquitted 5 men of rape because the unconscious teenage victim offered no resistance. The men werer convicted of the lesser crime of sexual abuse and ordered to serve 10 - 12 years in prison.

In Quebec, a law forbidding all religious symbols is apparently being used to discriminate against Muslim women. Bill 21 forbids certain public-sector employees from wearing religious clothing. An overwhelming 74.5% of teachers are Muslim; it seems they must change to a different employer, move to another city, or relinquish being promoted.

In Missouri the GOP-appointed director of the Missouri Department of Health and Senior Services has admitted that he has been recording the menstrual periods of women who visit Planned Parenthood offices. The State is apparently trying to intimidate its one last abortion clinic by keeping a spread sheet with intimate data about the women. The intimate record-keeping has been described as "government overreach at its worst". The CEO of Reproductive Health Services of Planned Parenthood commented: "It shadows the Trump administration's history of tracking the periods of refugee girls under the government's care. This is outrageous and disgusting."

At the Hear Her Festival, the line-up featured all-female artists from a variety of music genres like pop, indie rock and folk. The festival was organized as a protest against the meager opportunities available for emerging female musicians.

c. Corinne Whitaker 2019

Be sure to email giraffe@giraffe.com with your suggestions, be they articles, videos, images, cartoons, music, or comments, so that we can share our celebrations and our concerns with each other.