All About Women
Our Woman of the Month Award for March goes to Ruth Waters, Founder and Executive Director of the Peninsula Museum of Art in Burlingame, California, and distinguished sculptor. Waters is one of the few women to have succeeded in establishing a working museum that serves as a focal point for exhibitions and teaching in the local community. She has emphasized outstanding artists, particularly women, who have been overlooked by the major museums.

Working to help women overcome the gap in science, math, and technology, Reshma Saujani is a lawyer and politician. She has started a site called "Girls Who Code, a nonprofit organization that teaches and mentors young women. Her organization has grown from 20 girls five years ago to 40,000 from all fifty states, with funding goals that were originally half a million to 16 million today. Reshma has been included in Fortune Magazine's "40 under 40".

Time Magazine discusses the very real political implications of Beyonce's snub by the Grammy Awards in favor of Adele. In addition to tearing the award in half so that she could share it with Beyonce, Adele commented, ""What the f--- does she have to do to win Album of the Year?". Time discusses the Grammy's history of downplaying R and B and Hip Hop, particularly if performed by black musicians. In a tribute to Queen B, a street artist in Australia has painted a five-story-high mural showing Beyonce pregnant.

The new Secretary of Education appears to have removed a website dedicated to helping disabled children and their families. The site was prepared under the Presidency of George W. Bush so that the advantages of the federal Individuals with Disabilities Act, known as IDEA, could be explained to the public. Unfortunately the new President made fun of a physically disabled New York Times reporter who asked a question during a news conference.

A project known as Quipu is offering hope to women in Peru who have been involuntarily sterilized. It is reported that upwards of 300,000 Peruvian women were brutailzed in this way some 18 years ago. Quipu is designed to assist these women via phone to share their experiences and hopefully bring those responsible to justice.

Stanford University has dropped a woman attorney who was part of a small legal group advising women assault victims on campus. Crystal Riggins, the only member of the outside group exclusively representing victims, protested the inadequacy of the Stanford response to sexual abuse complaints. Her description to the New York Times of how the university's panel was engineered to rule against the complainants caused her dismissal.

A 2014 YouTube addressing the Pasadena Final Conference on Aging will brighten your day (and that of men as well). The speaker, Fritz Coleman, NBC News weather caster, casts an unflinching eye on the foibles of the aging body. (Thanks to N.T. for this).

The New York Times treats us to an account of how women are changing the sport of professional hockey. Two women became the first to work as coaches on the N.C.A.A. Division I men's hockey staff. One began skating at age 3; the other's father was general manager of the Calgary Flames.

An article in Market Watch claims to have found the secret of how to slow down aging. Two professional women, Elizabeth Blackburn, a professional biologist, and Elissa Epel, a health psychologist, have together published a book called "The Telomere Effect: A Revolutionary Approach to Living Younger, Healthier, Longer". Both women hold PhD degrees and teach at the University of California San Francisco. In 2009, Blackburn was one of three scientists sharing a Nobel Peace Prize for their research on how Telomeres protect chromosomes.

The San Francisco Chronicle informs us that there is not a single country in the entire world where women earn more than men. Using a chart from Bank of America Merrill Lynch, the article states that even in New Zealand, which has the smallest pay gap, women earned 5% less in 2015 than men. The United States was one country away from the bottom ten.

Abigail Grey Swartz sent one of her paintings, unsolicited, to the New Yorker and it ended up on their cover. The woman in the painting is black, and she wears a pink "pussy hat", symbol of the Women's March recently held in Washington, D.C. and other locales as well. Swartz updated a poster of Rosie the Riverter, the icon of working women during WW II.

Rap music and lyrics are being used to embolden women in Cambodia, a country known for its demand that women be silent and unacknowledged. The music combines traditional Khmer music with typical Hip Hop, a stark departure from the syrupy love songs generally heard.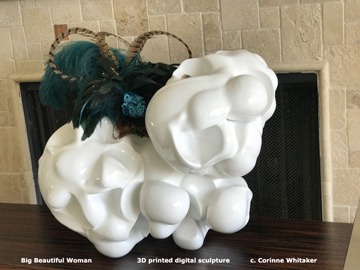 Take a good look at our Big Beautiful Woman sculpture, the denial of everything Barbie, celebrating the ample hills and valleys that most of us share. Then watch/chuckle at this gem, provided for us by You Tube.

c. Corinne Whitaker 2017
Be sure to email giraffe@giraffe.com with your suggestions, be they articles, videos, images, cartoons, music, or comments, so that we can share our celebrations and our concerns with each other.