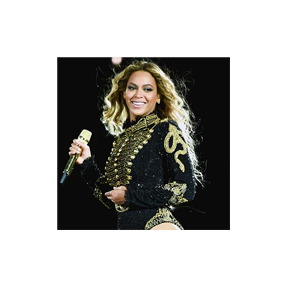 All About Women
Our Woman of the Month Award for May, 2019, goes to the amazing Beyonce, woman of courage, exemplar of professionalism, inspiration to women everywhere, of any age and any persuasion.
Note: Woman of the Month now has its own page in the giraffe.com archives section.
Did you know that 80% of early films were hand-tinted by women? The colors were bold and eerie, and the job was one of the few open to creative women in the film industry. They were paid much less than their male counterparts. The women, who remain largely forgotten, used dyes to accentuate specific objects while most of the film remained black and white. One noted French film colorist, Elisabeth Thuillier. employed about 220 women in her studio. She was known for her meticulous attention to detail: one film that she worked on needed 13,375 film frames.

For over 30 years Janet Laurence has been producing art that calls attention to the plight of the earth and the disapearance of species. The Australian artist has been insistent that humanity's relationship to other species has put the entire planet in peril. Originally criticized for being too feminine, her work is now recognized for its timely attention to subjects like climate change and environmental devastation. Her goal is to bring people into "an intimacy with nature".

Her name was Agnodice. In the fourth century B.C.E. she was summoned in front of a jury of very angry men, accused of seducing the women of Athens. Dressed as a man, her answer was to slowly undress and prove her gender beyond a doubt. Although the story is deemed myth by some, there are other scholars who insist that it is historical fact.

There are an increasing number of travel arrangements open to women only. In addition to the expected cultural studies and wellness tours, travel agents are now offering sports-oriented opportunities, where women escape the inevitable pressures of keeping up with men. One group, Road Scholar, for women older than 50, has 43 no-guys trips, up from 14 just eight years ago. Another, called Adventure Women, lists 46 trips for women between 50 and 65.

According to Goldman Sachs, Japanese women have not achieved the empowerment they were promised in 1999. Roughly 3 million women have entered the work force since 2012, yet they only earn 3/4 as much as men. One of the problems is that so many of the wome n work part-time. Lack of adequate child-care holds women back from full employment. Japan is missing out on 15% economic growth that could occur if women could work to their full potential. Last year, a medical university in Tokyo admitted that they excluded women and accepted men with fewer qualfications.

A woman in Ontario, Canada, has been hired as Director of the National Gallery of Canada, only the 4th female to hold that position and the youngest in over 100 years. Although Alexandra Suda has never run a major gallery or museum before, she was curator of European Art at the Art Gallery of Ontario and was instrumental in curating the upcoming exhibit "Early Rubens", set to open at the Legion of Honor in San Francisco.

The movie is called Rafiki. It has been described as a sweet romance, although the protagonists are 2 teen-age girls in Nairobi who fall in love. In Kenya 534 people were arrested for participating in same-sex partnering between 2013 and 2017. In Kenya the movie has been banned. The Director of the film, Wanuri Kahiu, has been the focus of unremitting hatred, even from members of her family. The government declared, "The attempt to normalize homsexuality is akin to air-conditioning hell". But she has been invited to show in Cannes. She has been offered a sci-fi series on Amazon Prime, as well as a drama for young adults produced by Reese Witherspoon. And she has sued the government.

Known as the Limping Lady, Virginia Hall was a disabled spy. (She had lost her left leg in a hunting accident.) In September of 1941 she was deployed to Vichy France to spy on the Germans, even though Winston Churchill had ordered that women were not to be sent to the front lines. But Hall and her prosthetic, nicknamed Cuthbert, went anyway and her story has now been told in a book called "A Woman of No Importance: The Untold Story of the American Spy Who Helped Win World War II". Hall's comrades admired her while the Germans were confounded. She undertook bold escapades, like helping 12 of her co-workers out of an internment camp, surviving a double-dealing priest, and trekking over the Pyrenees into Spain.

Recently the 13th edition of the Havana Biennial was held, including 83 participants from 45 nations and celebrating "the construction of the possible". One artist, however, was refused entry into Cuba at the border, described as "inadmissible". Her response was to say, "I'm not a live plant, cheese, a narcotic, or a pornographic publication, but expressing critical views of repressive measures carried out against artists constitutes grounds for barring my entry to Cuba". Coco Fusco is Cuban-American, based in New York. She speculates that her detention arose from her support of artistic freedom and criticism of the recent government Decree 349, which declares that artists must be approved by the government and refrain from criticizing the regime.

Veronika Scott was a 21-year-old junior at Detroit's College for Creative Studies when she got an assignment to "design a project that filled a tangible need in the community". Scott gravitated toward helping the homeless, and the result was a non-profit organization called The Empowerment Plan, of which she is the Founder and CEO. First she designed a coat meant to withstand the brutally cold temperatures of Detroit's winters, a coat that is not only insulated, durable, and water-resistant but also becomes a sleeping bag and rolls up into an over-the-shoulder pack that is easy to transport. When one woman complained "I don't need a coat. I need a job", Scott developed a company that employs homeless women to manufacture the coats and offers job training and literacy classes.

c. Corinne Whitaker 2019

Be sure to email giraffe@giraffe.com with your suggestions, be they articles, videos, images, cartoons, music, or comments, so that we can share our celebrations and our concerns with each other.