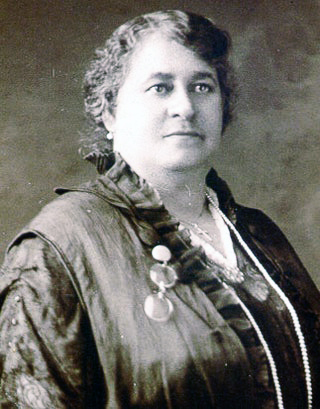 All About Women
Our Woman of the Month Award for November, 2020, goes to Maggie Lena Walker, (1864 - 1934), who founded the Saint Luke Penny Savings Bank in Richmond, Virginia, making her the first African American female bank president in the nation's history. For many years after the Civil War, Blacks had no place to secure home or business loans. Walker answered that need. She also started a community newspaper. She died the year I was born.

Both Amazon and Netflix have agreed to change the rules for Bollywood films by providing jobs for women. Half of India's Netflix movies this year are said to be led by women. You will probably see an Indian version of "Sex and the City", as well as a biofilm centered on one of India's first female combat pilots. Both major streaming companies have pledged to see that females predominate both behind and in front of the camera. India's streaming industry is said to bring in $34 billion USD in revenue. In the past, like last year, most Indian filmmakers felt they had to use a male star to attract their mainly male audience. Due to the covid pandemic, women are now watching movies on their laptops or cell phones, changing the dynamics of this major industry.

From stilettos to athletic footwear, women now have a substantial choice in how they clothe their feet. I suspect however that few of you have seen the Netha Goldberg designs shown here. These innovative shoes offer three basic designs, with attachments for things like tampon, matches, and electrical ports that will charge a number of devices. The shoes are fabricated in knitwear. The set holding matches has spikes to secure them. Behind the innovations is the designer's philosophy: "to give and receive as part of a creative, mutual and open society". (Note: I wonder if we could form a government based on those priciples?)

I must admit my concern about this next item. From Egypt we learn that a graduating class of police cadets has advertised their strength and virility with a video shown on Egyptian TV. The graduation ceremony featured men with no shirts exercising and showing off muscles while breaking bricks with their bare hands and doing push-ups on moving cars. What's clearly missing, in addition to tastefulness, is anything about community outreach, compassion, dealing responsibly with mental illness and domestic violence, not to mention any sense of responsibility for their actions. It's no wonder there was an outrage when the video was shown.

It appears that young women in refugee camps in Bangladesh are being sent as brides to men in Malaysia that they have never met. The young girls apparently have no idea of the perilous nature of the journey they are about to undertake, on trawlers, where they are so crammed together that they can not even stretch their legs. The trip, under these inhumane conditions, can take months, during which some of the women are beaten and starved, with their bodies tossed overboard. These are the stories of Rohingya refugees as they desperately hope for freedom after being taken from their homes in Myanmar and forced into settlements in Bangladesh. Many of them were promised suitable husbands when they arrived in Malaysia. The exodus was created three years ago when Myanmar's military burned to the ground hundreds of Rohingya villages in an apparent ethnic cleansing campaign.

Divorce is still such a banned topic in India that even young people are said to disapprove. The result is that divorced women are branded for life. Adding to the discomfort is a lingering demand that women get married by the age of thirty, after which they are treated as though there is something wrong with them. According to the article, individual boundaries and personal space appear to be foreign concepts, while divorce dishonors the family. In some strictly traditional communities, even death is considered preferable to divorce.

On a lighter note, enjoy this article on the inimitable Dolly Parton. The singer/comedian/acress has delighted audiences on both sides of the political spectrum. She has dodged numerous pitfalls with her sense of humor and down-to-earth view of life, no small feat.

Have you heard of Dame Staphanie Shirley? I confess I had not, and that is my shortcoming. She is one of the most successful female tech entrepreneurs in the world. In the 1960's she pioneered an all women software firm in the U.K.: it was eventually valued at 3 billion USD. and in the process made millionaires of 70 of her employees. Listen to her light-hearted Ted talk and enjoy her success story.

Roger Arliner Young graduated from Howard University in 1923 and became the first Black woman in the U.S. to receive a Doctorate in Zoology. Her list of "firsts" is admirable: first black woman to publish a paper in the highly-regarded journal, "Science"; first Black woman in the Sigma Xi Fraternity for engineers and scientists; first Black woman to do research at the prestigious Marine Biological Laboratory in Woods Hole, Massachusetts. She fought against the idea that "people of color were genetically inferior to white people". She was accused of "violating rules" and "being difficult". Read the rest of her inspiring, albeit tragic, story here.

Why is it that Black women are 40% more likely to die from breast cancer than non-Blacks? Is it because only 5% of doctors in the U.S. are black, and of those, few are women? Is it because black families have so many other issues to deal with that they ignore the symptoms? Perhaps it reflects the lack of Black women patients in studies of the disease. This article examines some of the reasons and attempts to suggest improvements.

Commentators and experts are concerned that women globally seem to be left out of the corona virus discussions, both in policy deliberations and in media coverage. Female scientists and doctors are quoted far less frequently. The result is that women's expertise and experiences are marginalized, a situation that the Bill and Melinda Gates Foundation say has succeeded in "reinforcing the gendered stereotype that men are more reliable in emergencies and as decision-makers."

c. Corinne Whitaker 2020
Be sure to email giraffe@giraffe.com with your suggestions, be they articles, videos, images, cartoons, music, or comments, so that we can share our celebrations and our concerns with each other.