All About Women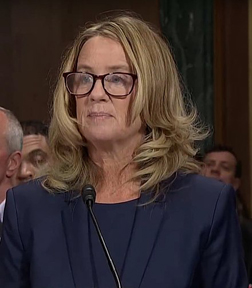 Our Woman of the Month Award for January, 2019, goes to Cristine Blasey Ford, whose courageous testimony before Congress and indeed the entire world lifted the spirits of women everywhere. How many of us would have had her boldness?
Note: Woman of the Month now has its own page in the giraffe.com archives section.
If you are raped, and assuming anyone finds you credible, you may find yourself subjected to invasive, humiliating procedures in the emergency room. To make matters worse, many of those rape kits are not reported, used, or even examined. This article describes in detail the procedure, all too familiar to victims of sexual crimes, that women face and the careless treatment of the results afterward. Note: following the revelations in this article, several states' attorneys general have said they willl notify "every law enforcement agency" in their jurisdiction to be certain that rape kits are maintained and properly preserved, with special care to see that evidence is not destroyed.

For the first time in its 77-year history, the National Gallery of Art in Washington, D.C. will have a female director. Kaywin Feldman, who headed the Minneapolis Institute of Art for 10 years, will take over from Earl Powell. Feldman begins her post on March 11. Mary Morton, a curator at the National Gallery, said, "She's a forward-looking candidate. The guys with the accents and suits, that's been the norm. It's really great to be out of that model."

As the middle east moves into the 21st century, three women who are leading the art scene there are interviewed for their impressions. One directs the Museum of Islamic Art in Doha, Syria, another is the director-general of the Sharjah Museums Authority at the United Arab Emirates, and the third is a director of Art Jameel, Dubai and Jeddah.

In a sad twist of fate, senior women in Japan are deliberately committing small crimes,like shoplifting, to secure a warm bed and food in the nation's prisons. Japan has the world's largest number of senior citizens, with 27.3 percent of its older population past the age of 65. In addition to physical comforts and safety, many of the women have lost the support of families and communities and find themselves lonely and helpless at a time when they can no longer find work.

The Boston Symphony is considered one of the premiere orchestras in the United States. It is composed of 63 men and 32 women, and one of those women has sued the orchestra for gender discrimination. It appears that her salary is $70,000. less than the principal oboist. The orchestra claims that the oboe is a more difficult instrument to play and therefore the pool of talented musicians is considerably smaller. The matter was referred to arbitration.

Her name is Asma Naz, she is just 25, was educated at the Bangladesh University of Engineering and Technology, and is now a Junior Fellow at the Hanse-Wissenschaftskolleg (HWK) Institute for Advanced Study in Delmenhorst, Germany, working in anticipation guided new forms of interactive architecture and machine learning. We tip our hats to her and wish her well.

72 judges from 30 countries have picked the top 100 best footballers in the entire world for 2018. You can see all of them here, as well as select by country and/or position played.

The New York Times has reviewed Michelle Obama's "Becoming" in a full and flattering write-up. The review makes for compelling reading, suggesting that the book itself is a worthwhile read.

An a capella group from Princeton University has removed a song from their production of "The Little Mermaid" due to the "toxic masculinity" of the lyrics. Called "Kiss the Girl", the song encouraged bringing a woman from the audience up onto the stage to decide whether a man could kiss her. Their action was in response to a critical comment in the school's student newspaper, suggesting that the song's message was too misogynistic.

For the first time ever, an Afghan woman has been named to a high Interior Ministry Post. Hasna Jalil was appointed as deputy for policy and strategic affairs. Jalil commented, "this is a winning story for the government of Afghanistan, ...having a woman in the security sector".

Wall Street has followed Vice President Pence's advice to never ever be alone with a woman. In finance, that advice has isolated women from their male counterparts, further segreagating them in an industry not known for its sense of inclusion. Women are already hard to find in the top positions in finance, and the culture is often cited for its refusal to admit or publicize gender complaints.

Two authors have written a biography of the American artist Flora Mayo, whose works had been previously destroyed or unknown. Mayo at one time was the lover of Alberto Giacometti and her own work had been totally subsumed under the weight of Giacometti's reputation. The biograhy has been reworked from a feminist viewpoint, using the convention of a conversation between Mayo and her son, David. "Flora and Bust" was shown at the Swiss Pavilion of the 57th Venice Biennale in 2017 and was later presented at the Los Angeles County Museum of Art.

A young artist and feminist, Oksana Shachko committed suicide this summer. Prone to repeated panic attacks, Shacko was described as a "prodigy" as a young girl and was reared in an atmosphere of rigid and dogmatic church rules. Originally determined to become a nun, she later felt the inability of the church to address the pressing issues of life in Ukraine. She became an atheist and a communist, spurred on by the inhumane treatment of women in her country. "Need Want Love" is the message that she scrawled on a friend's water heater, later adding "Nature is not honest". After leaving Ukraine in 2014, her life became one of violent protest, finding herself jailed, threatened and exiled. The article goes on to explore her thoughts and activities in some detail.

The Metropolitan Museum of Art received some negative comments recently on their exhibition, "Play It Loud: Instruments of Rock & Roll". Their history of the music apparently included only one woman. The Met's response to the criticism: another exhibition, called "Good for You,Girls: Tambourines Throughout Rock History".

New York CIty has announced a new program called "She Built NYC", aimed at creating public monuments in honor of women in New York who have "changed history". The announcement was made on the birthday of Shirley Chisholm, the first black congresswoman in US history. Part of the initiative will be to review and remove current monuments that extol men who have mistreated women.

Women in Rwanda have recently begun earning their living by fishing, an industry dominated by men in the past. The women work late into the night, sometimes bringing their young babies with them. They have formed collectives and created an opportunity to be self-supporting, rather than worrying what would happen to them if their husbands died. The background of this resurgence in female power is indeed a bloody one, filled with genocide and hatred. Now, one of the women is quoted as saying, "If I can go and spend the night out on the water, then it shows that things have changed."

Domique Crenn has just become the first woman in the United States to earn 3 Michelin stars for her restaurant Atelier Crenn in San Francisco. That city now has eight 3-star restaurants to its name, more than any other U.S. City.

A new online database aims to rewrite art history so that it includes a more balanced representation of women artists born between 1860 and 1972. Aware is a non-profit organization based in France. It was formed by 7 women, including an accountant, a writer, and 3 attorneys. Its Prix AWARE annually gives roughly $11,300. USD to one established and one emerging artist.

Nevada has just become the first U.S.state whose legislature holds a female majority. This means that 51% of the state's 63 legislative seats are filled by women. According to the Center for American Women and Politics at Rutgers University, no state has ever had a female majority or even a 50% female legislature prior to this.

c. Corinne Whitaker 2018

Be sure to email giraffe@giraffe.com with your suggestions, be they articles, videos, images, cartoons, music, or comments, so that we can share our celebrations and our concerns with each other.