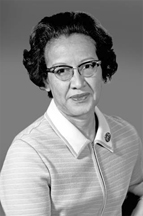 All About Women
Our Woman of the Month Award for September, 2019, goes to NASA Space Mathematician Katherine Johnson, central figure of the book "Hidden Figures"
Note: Woman of the Month now has its own page in the giraffe.com archives section.
Amie Wilkinson loves to explore unknown worlds in mathematics, specializing in the field of motion. Objects in a dynamical system carry traces of the forces that produce them. As Wilkinson says, "It's like things have a history and a future, they're not just these objects I'm studying."

It seems hard to believe, but in parts of the United States muslim women are made uncomfortable when they wear a modest swimsuit called a burkini. Often they are attacked, verbally and even physically, for being "unfeminist" and "oppressive". The oceans don't complain, only other humans who follow a different belief system.

A marriage for love in India came to a tragic end when the bride's father hired an assassin to kill the groom. Apparently the two families were in different social levels, convincing the father that his honor had been humiliated by his daughter's choice of a husband.

Evelyn Hernandez was accused of inducing an abortion after she was raped. The 21-year-old was convicted and sentenced to 30 years in prison. Fortunately the sentence has been revoked by a judge who ruled there was not enough evidence to convict her.

Women around the world are marrying themselves in increasing numbers. Many give themselves elaborate ceremonies complete with cake and ring. One woman explains: we are not saying that men are irrelevant, but rather that women matter. Here is another woman marrying herself to denounce the stigma of being single. And here is a third in Taiwan, emphasizing that the occurrences are not restricted to any single culture or country.

Women in Saudi Arabia have recently been given the right to travel with their children. The new edict says that women over the age of 21 can obtain passports for their youngsters and travel with them without first getting permission from their spouses.

John Marx has built a pavilion at Burning Man 2019 to reinvent the myth of Andromeda as a story of female empowerment. The elaborate cnc-cut exterior invites visitors to enter, with paintings and sculpture inside. Markers are also hung from the ceiling so that visitors can write about their own heroines on the walls.

Ann Nelson was a much-admired theoretical particle physicist. Her colleagues say that there is barely a major development in the field that she did not make a contribution to. One of her students said, "When you realize how big her brain is, you'll be amazed there's no room in there for an ego". Nelson died unexpectedly on August 4 of this year.

Female gamers are finding that they can make a great deal of money streaming themselves online as they play. They are also discovering the dark side of their success as ugly comments, some of them threatening violence, are directed at them.

Morgan Stanley has released the findings of a study indicating that companies who employ more women have a better stock market performance. The results are the same no matter what country is analyzed.

One courageous woman is trying to open up the vast mineral resources underlying the rocky terrain in Afghanistan. The value of these resources, like copper, gold, uranium, rare-earth metals, and precious and semi-precious stones, has been estimated to be worth over 1 trillion dollars. The political and logistical challenges, obviously, are immense.

c. Corinne Whitaker 2019

Be sure to email giraffe@giraffe.com with your suggestions, be they articles, videos, images, cartoons, music, or comments, so that we can share our celebrations and our concerns with each other.