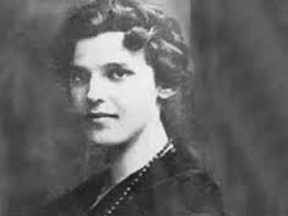 All About Women
Our Woman of the Month Award for December, 2021, goes to Diana Budisavljevic, who saved more than 7,000 children from the Nazi's in WW II. In fact she kept a record of her experiences, which eventually led to many of the children being reunited with their families when the war ended.

Sydney Leroux fought her way up to the top of the soccer elite in Canada before she changed her affiliation to the United States. There, with the U.S. team, she won titles in Olympic and Women's World Cup. Leroux's coach in Canada was Bob Birarda who has been removed from his coaching responsibilities after being accused of abuse. Eventually Birarda was arrested and charged with 6 counts of sexual exploitation, two counts of sexual abuse, and one count of luring a child, all alleged during his 20-year coaching tenure. Birarda was apparently part of a culture of bullying, which made Leroux decide to leave Canada and to to her father's native country. She called the situation "horrible" and reported, "You felt that it was the men's club. That you couldn't do anything. You couldn't speak. You couldn't complain to anybody. You would be too scared. [Many players don't speak because they] don't want to lose the chance to work for Canada Soccer in the future or lose their position on the team. Even I'm still worried about saying things about Sydney. They all cover for each other."

The last of Afghanistan's only music School has finally been able to leave the country, held back in October by a lack of paperwork. Included in the emotional escape this time was the all-female Zohra orchestra, which has been granted asylum in Portugal. The strict rules of Islam under the Taliban forbid music altogether, a blow to the recent international effort to encourage young musicians. Under the more open policy, Afghani students, both female and male, have performed all over the world.

Women in Australia have been struggling to overcome the hiring prejudice against women in STEM who move there from other countries, even when qualified. It appears that male employers are enforcing a strict dress and behavior code that mitigates against hiring women of color and migrants. Efforts to improve the situation include "Dress to Impress", a panel discussion aiming to change the rigid fashion norms being used to exclude certain women.

The Bank for International Settlements has found that companies with more women in middle management produce less carbon than companies with men in the same positions. Essentially, women managers are inclined to favor environmental protections rather than concentrating heavily on shareholder interests.

Catherine Heymans has just been appointed by Queen Elizabeth as the first female Astronomer Royal for Scotland. Heymans attained her Master's Degree in physics from the University of Edinburgh in 2000 and her PhD from Oxford University in 2003. She also received fellowships at the Max Planck Institute for Astronomy, the University of British Columbia, the Institut d'Astrophysique de Paris and the University of Edinburgh, all while raising 3 children. In 2012 Heymans was part of a group that put out the first large-scale map of dark matter in the universe. Her emphasis on showing kids how exciting astronomy can be led her to say, "Kids are the best way to learn how to be a science communicator, because they will tell you if you're boring."

Rhonda Cynon Taf does not have an easy job. She has to keep 2 extra heavyweight men under her control as the U.K.'s first female arm wrestling referee. This month she will be in charge of the U.K.'s first professional national championship.

Three women made history this month when they were elected to New York City Council seats. The first Muslim, the first queer Black, and an Afro-Latina join 31 women to form the Council's first women majority when they are sworn in during January. Currently there are only 14 women on the Council. This article discusses their backgrounds and experiences.

A dress embroidery project called the Red Dress hoped to connect the voices of women from many different cultures. More than 240 women participated, adding elements of themselves and their culture. The Dress took almost 12 years to finish. Kirstie MacLeod hoped that marginalized women in particular would be encouraged to use the embroidery to tell their own stories.

Cresencia Garcia, a former medical assistant, was honored at Carnegie Hall during a ceremony praising unsung heroes of WW II. Garcia worked tirelessly to care for the wounded and the sick, with no regard to their color or race. Because she was black, there were places where she was not allowed to go, not allowed to sit, not allowed to eat. Garcia comes from a family dedicated to service, including her children and her husband. Now 101 years old, she recently survived an attack of coved 19.

According to the Greek Reporter, girls in Afghanistan are being sold to complete strangers as dire conditions take over. Some as young as 9 years are being sold into marriage with older men, a practice that has resumed under the Taliban. In some cases, the girls are being sold to raise money to feed other children in the family. The United Nations estimates that three million children under the age of five are at risk of acute malnutrition. Most of the girls are too young to consent to sex, making their situations cases of forced rape.

Even PhD students in the U.K. are being forced to improvise in order to survive during the pandemic. One young lecturer had to live in a tent for 2 years, hoping that her students would not find out. Her research and teaching income would not cover her rent increase, resulting in her finding a a small one-person tent, teaching herself to chop wood and start a fire. She bathed at the university, and stored her books in the school office. Neither her parents nor the university knew how difficult her life had become.

In order to destigmatize the subject of menopause, posters have been displayed in almost 200 New York City subway stations with the hashtag "Know Your Menopause". The poster is also on display in about 400 doctors' offices in Wales and on more than 9,000 digital screens in the U.K. The New York City posters are writtn in both English and Spanish to alert women to the many symptoms that can occur before, during, and after menopause.

She is 40 years old, a retired Olympic silver medalist,and a marathon runner. She has also had reconstructive surgery on both knees. So why is Shalane Flanagan running 6 major marathons in a span of 42 days? She calls it "magical", "a journey of miles and of self-discovery", something she needed to do to feel like herself again. Running, she says, plays a huge role in her happiness, her mental clarity, and her mood. Flanagan describes the pandemic as a "covid abyss of nothingness and no goals". She says she wants to inspire younger women to continue running throughout their lives, as a lifelong joy rather than something to give up as they get older.

Oliver Ryder, Director of Conservation Genetics at the San Diego Zoo, has co-authored a paper containing a startling discovery - that female Callifornia condors can reproduce without a male partner. The process is called parthenogenesis and is extremely rare. The condor population had been severely reduced - by 1982 there were only 22 of the birds remaining worldwide. California led a recovery program, so that now there are more than 900 birds. As part of the program, the Zoo did extensive genetic and DNA testing, resulting in their discovery that some of the chicks had no genetic material from the male birds that had shared the enclosure. The word parthenogenesis comes from a Greek word meaning "virgin birth". It is known to occur in other species such as aphids, bees, and ants, but is very rare in birds. The mother condos had previously given birth through sexual reproduction. Condors can live into their 50's, but the two males chicks born asexually died at an early age, one of them at 1.9 and the other at 7.9 years old.

c. Corinne Whitaker 2021
Be sure to email giraffe@giraffe.com with your suggestions, be they articles, videos, images, cartoons, music, or comments, so that we can share our celebrations and our concerns with each other.