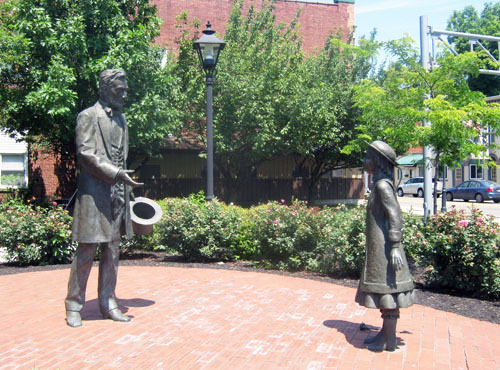 All About Women
Our Woman of the Month Award for January, 2021, goes to Ma Rainey, the "Mother of the Blues". Born Gertrude Pridgett, Ma Rainey is remembered as one of the earliest African-American professional blues singers, who influenced generations after her. She also pioneered as a "liberated bi-sexual" and a good businesswoman. She is currently being seen in the Netflix film, "Ma Rainey's Black Bottom", a film adaptation of August Wilson's play.

Do you know who was the first person to use the phrase "fairytales"? As it turns out, she was an accomplished fairytale author herself. Madame d'Aulnoy, a french 17th century writer, penned "The Island of Happiness" as part of her collection of fairy tales. In this tale, a woman is so beautiful that hundreds of lovers are killed by it. Born in 1650, d'Aulnoy was married at age 13 to a 43-year-old gambler. Apparently, after trying to kill him, she traveled for a decade and eventually became a French spy. Her stories, hidden for 300 years, are being published now by Princeton University. She liked to put women in control of their own lives but her talents have been hidden by male authors like Hans Christian Anderson and the Brothers Grimm.

"Sisters With Transistors" offers us a chance to recognize some pioneering women in the field of electronic music. As we know too well, the concept of women composers has been denigrated, as in the 1970 New York Times article, "Why have there been no 'great' women composers?". The film can be streamed online until December 29, 2020.

Traditionally, Buddhists have viewed women as secondary to men, but some are beginning to challenge this idea. The nuns of the Drukpa Lineage in Nepal, a group dating back 900 years, are training themselves in the severe martial art of Kung Fu. There are also female monks in Thailand who are traveling to other countries to be ordained and then returning to their homeland to be female monks.

Some women in India are unable to pay for their wedding day. In response, a shop has opened in Kannuar, Kerala, offering free second-hand fabrics and clothes. The store, called "Rainbow: The Women's Outfit", receives items from designers and wealthy patrons and then makes them available free of charge to underprivileged brides. The store was founded by a 41-year-old fashion designer, who calls it a "cave for Cinderellas", since lavish weddings are an honored tradition in this country. The Founder says that she is also part of "Agora", a WhatsApp group set up by women entrepreneurs.

We all should know the name Augusta Savage, who was the only woman invited to create art for the 1939 World's Fair held in Queens, New York. Savage celebrated the black body. She founded and taught at several art schools, one of them today called The New York Public Library's Schomburg Center for Research in Black Culture. Among her many achievements, she opened and ran the first commercial art gallery in the U.S. owned and operated by Black Americans. For the World's Fair, she created a 16-foot sculpture called "Lift Every Voice and Sing"

Another name to recall with pride is that of Mitham Lam, the first woman allowed to practice law in India's Bombay High Court, as well as the first Indian woman admitted to the Bar in Britain. Lam was also an active supporter of women's rights: when men protested against women voting she called their doubts "soap-bubble material". She worked hard to improve living conditions for slum occupants, and was named the first female sheriff in India.

The Journal of the American Heart Association reveals that Black women are at high risk for heart problems, including muscle weakness and heart attacks, during and after pregnancy. In fact, these women are 71 percent more likely to develop heart muscle weakness than their caucasian counterparts. One attempt to remedy this situation is called "Birthing Project USA" - there are others listed in this article as well. All seem to emphasize community as an essential element.

Women in Kashmir are struggling to overcome social taboos when a relationship ends. So often these women are told to give up their careers when they get married, part of the male-dominated power structure that controls social mores. One change being fostered is the establishment of a model, nikkah-naama,, which puts the rights of brides into writing. In a positive sign, Kashmiri women can now demand compensation for abuse in a marriage, as well as medical expenses and property rights. The community has been slow to respond, however. Kashmir's only women's commission has been disbanded with no date given for reviving it. In the meantime, marital disputes are settled by local groups called mohalla committees, and those are traditionally run by men.

Rita Dove should be added to our list of noteworthy women. Dove served as Poet Laureate Consultant to the Library of Congress from 1993 - 1995. She is also the second African American to be honored with a Pulitzer Prize for Poetry, in 1987, and received a Guggenheim Fellowship. In "Cozy Apologia", she wrote: "Who's satisfied simply with what's good for us, when has the ordinary ever been news? And yet, because nothing else will do, to keep me from melancholy (call it blues), I fill this stolen time with you."

A few eviction moratoriums have helped some families avoid being sent out on the streets to survive, but the majority of those programs are expiring. According to the Aspen Institute, approximately 40 million people will be kicked out of their homes in the coming months, and many of those are women and their children. A lack of medical insurance is also afflicting these women and preventing them from getting appropriate, if any, care. A Princeton sociologist, Matthew Desmond, writes, "eviction is to women what incarceration is to men". One statistic reveals that nearly 37% more Black women than Black men were evicted between 2012 and 2016, In September, roughly 865,000 women stopped working, at least 4 times more than men. That figure suggests that many more women will be made homeless in the midst of winter, with no economic or health safety nets to aid them. The current period is being called a She-cession.

In 1934, the year of my emergence, Dame Ethel Smyth celebrated her 75th birthday. Smyth was one of the U.K.'s most famous composers. Her symphonic cantata, The Prison, was widely praised, although by the time it was played at the Royal Albert Hall she was almost entirely deaf and could barely hear her own music. Smyth was also the composer of six operas, but like many other talented women in the arts has been silenced, overlooked, and ignored.

c. Corinne Whitaker 2021
Be sure to email giraffe@giraffe.com with your suggestions, be they articles, videos, images, cartoons, music, or comments, so that we can share our celebrations and our concerns with each other.