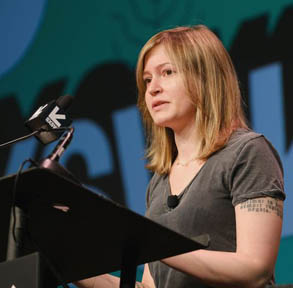 All About Women
Our Woman of the Month Award for March, 2020, goes to Susan Fowler, who outed the abusive culture at Uber. Her new book, "Whistleblower: My Journey to Silicon Valley and Fight for Justice at Uber" is a must-read.
Note: Woman of the Month now has its own page in the giraffe.com archives section.
It has been revealed that female cocoa workers are paid as little as 23 pence per day. By comparison, the average farmer receives 75 pence per day, while the extreme bottom line worldwide for poverty registers 1.40 pounds daily. Since the U.K. chocolate industry generates 1.4 billion pounds each year in revenue, a movement has begun to see that female chocolate works receive adequate compensation.

Older women find themselves at the bottom of the food chain and describe feeling like "plankton" in society. One blog writes, "single women aged 45 and older are barely visible and at the bottom of the food chain for dating and relationships". Another study reports that "physical appearance matters more for women" and that "women are perceived to diminish in attractiveness with age more precipitously than men."

Ninety years ago, Elizabeth Williams made the mathematical calculations that led to the discovery of the planet Pluto. Two men were given credit for the achievement but Williams, who made their work possible, was ignored. Those were the days before calculators, when complex mathematical calculations were done by hand, usually by women. Little is known about Williams, except that she was ambidextrous, writing in cursive with her right hand and printing with her left. She died in poverty, unrewarded for her extraordinary work.

At the North Carolina High School Athletic Association State Championship, Heather Fitch became the first female wrestler to ever become state champ. Fitch decided at age 6 that she wanted to become a wrestler, after watching her brothers compete. She has recorded 54 wins and only 4 losses so far this year. Fitch commented, "My parents didn't want me to wrestle. I'm pretty sure it was because they didn't want me to get hurt. But I would just be like, 'Well, if they can do it, then I should be able to do it.'"

The Museum of Latin American Arts in Long Beach, California, is showing 30 "arpilleras", small traditional quilts sewn onto burlap, most of them by female artists. The women remain anonymous, but the memory of Chile's toxic dictatorship burns brightly in these works. The 17-year brutal reign of Augusto Pinochet is documented: hunger overtook 60% of the population, over 3,000 citizens vanished, and many thousands more were kidnapped and tortured. Often in search of their missing husbands, women banded together and found meeting places and materals from the Chilean Catholic Church, eventually selling the quilts internationally. Sometimes the fabrics were made from the clothing worn by their disappeared children. An organization of women exiles was responsible for collecting and preserving the works so that their messages would be seen and acknowledged worldwide.

For the first time in the United States, NBC will employ an all-female broadcast crew to announce a National Hockey League game. The special broadcast is timed to honor International Women's Day during a game between the St. Louis Blues and the Chicago Blackhawks.

The word "difficult" is often used to disparage outspoken women and reduce their chances for employment and acceptance. Theresa May, for example, was called "a bloody difficult woman, author Elizabeth Wurtzel wrote a book about difficult women called "Bitch". The author of this article comments, "Changing the world won't make people like you. It will cause you pain. It will be difficult. It will feel like a struggle. You must accept the size of the mountain ahead of you, and start climbing it anyway."

If you watched the Oscars, you did not see an ad that was apparently vetoed by ABC and the Academy Awards. The ad promoted post-partum products for women and was deemed too "graphic". ABC said specifically that it did not allow ads for feminine hygiene products. Of course it saw no problem airing an ad for a high-cholesterol high fat fish sandwich. You can see the ad here as it was posted on You Tube.

Greece has just elected its first female President. Katerina Sakellaropoulou was formerly a High Court judge and human rights advocate. Her election was unanimous, and represented the first time in 200 years that a woman has held that post. 63 years old, Sakellaropoulou is known as an expert in environmental and constitutional law.

The American Society of Cinematographers remains heavily under-represented by women. Last year only one woman was nominated in the Director of Photography category. In 2020 there are none. Although many women have been camerapersons, the position of Director of Photography is given to males only. Part of the problem lies with the campaigns, which are heavily political and can cost as much as $20 million USD. Directorship determines what we see; clearly the vision of women is deemed less desirable and worth less at the box office.

A new study, reported in the journal Sex Roles, claims that women who wear too much makeup are perceived as being "less human, less warm, and less moral". On the other hand, a 2011 report from Boston University and Harvard Medical School states that women who wear makeup in the office are seen as "more competent, capable, reliable and amiable than women who sport a bare face." Yet other studies find that women with long hair are considered "high maintenance" and good for reproduction. The situation is more difficult for black women, who are often required to meet white beauty standards.

c. Corinne Whitaker 2020

Be sure to email giraffe@giraffe.com with your suggestions, be they articles, videos, images, cartoons, music, or comments, so that we can share our celebrations and our concerns with each other.