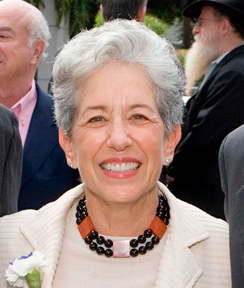 All About Women
Our Woman of the Month Award for June, 2020, goes to Joyce Linker, Chair of the Board of Trustees of the Contemporary Jewish Museum in San Francisco.

A new study looks at why women have such difficulty funding their retirement. Released by the National Institute on Retirement Security, the findings show that in 2016 the median household income for women over 65 was 83% of the income for men in that category. The differences arise not from who participates in savings for retirement but rather in the lower incomes of women during their working years. A major contributing factor was the care-giving role assumed by women more than men. Additionally, divorce usually penalizes the woman more than the man. Women also have more health issues in their 60's, forcing them to leave work earlier.

Many people are unaware that before she created the mirrored rooms that are currently so popular, Yayoi Kusama created works that were strongly political, mostly sculptures, photographs, and performances centered on a male-dominated society. These works of protestation occurred while she was living in New York at the center of an emerging avant-garde. After arriving from Tokyo, Kusama had a solo show in New York consisting of white on white paintings. She stated that she wanted them to be "like a bomb". Indeed they were viewed as explosive by admiring critics.

A rash of child murders in Atlanta has resulted in an HBO documentary series. The children were black, kidnapped and murdered in broad daylight. Called The Atlanta Child Murders, the series showed that roughly 30 black youngsters, all from poor and working class families, had been found dead in wooded areas close to their homes. The political powers, all white, were afraid that if the extent of the homicides was widely revealed it would cause a riot in Atlanta. Authors like James Baldwin chimed in to the hunt, with Baldwin's book "The Evidence of Things Not Seen". Soon a black man was charged on circumstantial evidence and given two consecutive life sentences. In fact a secret investigation pointed to the Ku Klux Klan as perpetrators, but evidence from that report was destroyed. Implicit also was the participation of civic leaders who rushed to return Atlanta to "normalcy".

A group of researchers at Imperial College, London, has tried to completely eliminate female mosquitos in their attempt to stop the spread of malaria in sub-Saharan Africa. Originally the study had attempted to make the females infertile. Now, however, the scientists are using a process called gene drive technology, which has succeeded in producing offspring that are almost 100% male. The resultant species dies off since it cannot reproduce. Although the ostensible purpose of the research was mosquito population control, the implications for women are deeply troubling.

An African-American woman in Manhattan was arrested for using chalk to write "Trump=Plague" on a closed storefront. Jill Nelson, age 67, used pink chalk to create her protest. Within seconds of writing the message, Nelson was cuffed and searched by four police officers, taken to the 33rd precinct, and kept in a cell for over 5 hours. When she was allowed to call her husband, an Associate Vice President for Community Affairs at Columbia University, the police disconnected the call before she could tell him where she was. Eventually she was given a court date and released, but not before she was threatened with these words: "If you don't show up we'll come to your house and arrest you."

Women in prison are making it known that they are being punished for open discussions about the dangers of covid 19. At Maryland's only female prison, no tests are being carried out. Any women showing symptoms are sent into an infirmary that is ill-equipped to handle them. An increase in progression of the disease results in the woman being sent home, not sent to a hospital. The prisoners are protesting the absence of masks and gloves, and the close grouping of inmates. A shortage of staff is being blamed for the unhealthy conditions.

According to the New York Times, this recession is being called a Shesession due to the sharp increase in the number of women losing their jobs. The word and concept were created by C. Nicole Mason, President and Chief Executive of the Institute of Women's Policy Research. In April the unemployment rate for women was 15%, compared to 3.1% in February. Even worse were the figures for black women, 16.4%, and Latina women at 20.2%. It appears that the jobs hardest hit by the pandemic - hospitality, leisure, education, and some portions of health care - are heavily filled by nonwhite females. (Note: unfortunately you will have to sign in for a free account to read the article.)

In the Victorian Era, women went to great lengths to hide themselves in portraits, often using photos of their children to remain invisible. The pictures show babies floating strangely against disguised forms, with mothers hiding themselves behind curtains or drapes. The Atlantic magazine characterizes these images as "The selfless precursors of today's selfies."

c. Corinne Whitaker 2020
Be sure to email giraffe@giraffe.com with your suggestions, be they articles, videos, images, cartoons, music, or comments, so that we can share our celebrations and our concerns with each other.