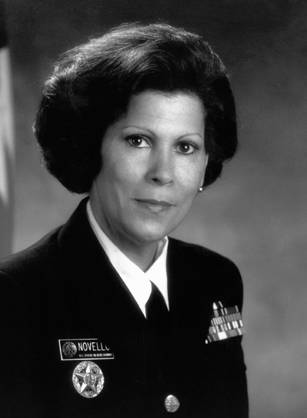 All About Women
Our Woman of the Month Award for April, 2021, goes to Dr. Antonia Novello, first woman and first Hispanic to be named Surgeon General of the United States.

The article in the Atlantic magazine asks, "Will women ever feel safe walking the streets?" It begins by discussing 33-year-old Sarah Everard, who was killed and dismembered in South London earlier this month. The man charged with her murder was a police officer. A survey released at the time of his arrest showed that 80% of young women - 80%! - have been sexually hassled in a public area in the U.K. Previous attempts to protect women, including better street lighting, more public toilets, baby changing stations in restaurants, have been of little use. Men seem to continue to crowd women at ATM's and demannd more sidewalk space. Abuse online has only intensified the problem. A further disturbing reality is that few of these crimes are reported, even fewer go to trial, and fewer still end in a conviction. The most radical proposal calls for men to critique each other, stop catcalling, stop other men from making derogatory jokes or comments; without a major cultural shift, that seems unlikely to happen. You might also want to read an article discussing the reaction of men if they were held to the restrictions now imposed upon women for their safety.

For the first time, a court in Japan has affirmed the right to same-sex marriage. Similar law suits are pending in other Japanese jurisdictions. Prime Minister Yoshihide Suga has made it clear that his conservative government is opposed to the ruling, although polls indicate the public's approval.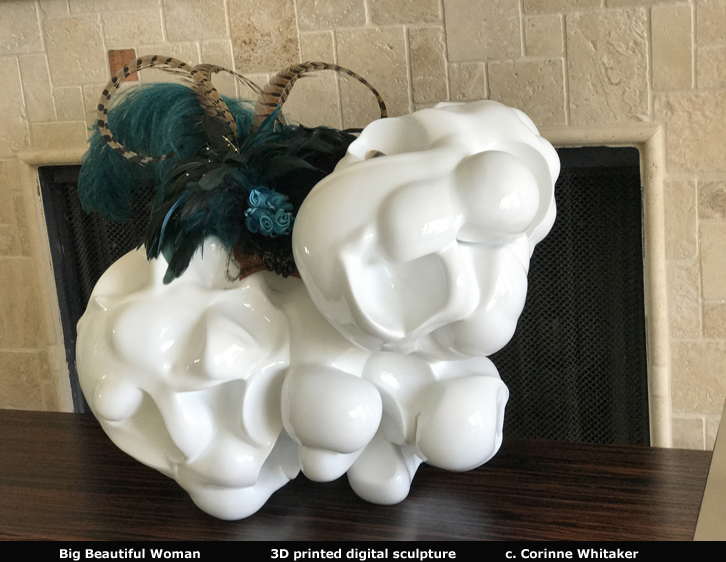 Mainstream retailer LOFT has angered many women with its decision to stop selling plus-size clothing. Devaluing larger bodies only feeds into the runway model, anorexic female body on tv that fetishises skinny women. It also boosts the constant-diet industry, and promotes the fantasy that larger women are less attractive. Note: our sculpture above, called Big Beautiful Woman, was designed to counter the prevailing fantasy of desirable women as impossibly skinny, like Barbie or Twiggy. Real people have bumps and hollows, as artist Thomas Hart Benton used to teach in his anatomy classes.

A prevalent attitude of sexism in medicine is treated as a well-kept secret. The fields of neuro-surgery and orthopedics seem particularly rife with derogatory treatment of female doctors. Top level appointments, like department Chair, are frequently filled by candidates who resemble previous appointees, reinforcing the cultural bias, but the discrinination occurs in many daily incidents as well. According to the Association of American Medical Colleges (AAMC), female medical students were 220% more likely to encounter sexual harassment than students in non STEM fields. Women's voices carry less weight and are treated with significantly less respect.

Did you know that prior to the 1500's, brewing beer was considered a woman's prerogative? What stopped it was apparently a smear campaign claiming that these women were witches. Throughout history, from the Vikings to the Egyptians, women were entrusted with beer-making, as a staple in family nutrition as well as an important part of religious rituals. It was apparently the Reformation that prompted tighter gender norms, encouraging men to take over the prosperous beer-making industry by denigrating female brewers as witches. Eventually the accusation of witchcraft resulted in prosecution and even death.

The Getty Museum introduces us to women in history that persisted in making art despite formidable obstacles. Under discussion are iron-age women, women in medieval bookmaking, and an 18th century French artist, Adelaide Labille-Guiard. Labille-Guiard specifically specialized in pastels, frequently denigrated as acceptable for female amateurs.

Amelia Schimmel has just been named the first female PA announcer for the Oakland Athletics major league baseball team. Schimmel has previously filled other jobs for the A's, including producer of game entertainment and video.

Even though the music industry has grown more diverse, women composers and producers have seen no improvement in their lot. A University of Southern California professor reports that only 22% of the top 100 songs released each year between 2012 and 2020 were produced by females. In addition, women got only 2% of the production credits over the past 9 years, 13% of songwriting credits, and 57% of songs had no women writers at all.

I had to ask myself if I was reading right: a Texas school district decreed that "girls obey any reasonable request of a male". Another assignment said, "Outside the classroom, ladies cannot show intellectual superiority if it would offend the men around them". The class was on chivalry. The message clear, if primeval. This is the second year that class has been taught. Students who objected were allowed to drop out. The purpose of the course? To "demonstrate to the school how the code of chivalry and standards set in the medieval concept of courtly love carries over to the modern day."

She was known as "Indiana Jane". She was actually Jane Fortune, who founded an organization called Advancing Women Artists, a nonprofit group in Florence, Italy, whose goal is to answer the question: "Where are the women"? The group has been looking for works by female artists that have been stashed away in Italy's museum and gallery storerooms. To date they have found 2000 pieces by women and paid for the restoration of 70 of them. As described by Director Linda Falcone, "Women didn't have citizenship. They couldn't produce art as a profession. They couldn't issue invoices. They couldn't study anatomy." Unfortunately the organization has been forced to close due to a lack of funding.

One of the most successful start-ups in Japanese history is Coly, designed by twin sisters to provide games for women. Coly's staff of 200 is 3/4 filled by women. The genre is known as otome. Female fans who get emotionally attached to their favorite characters are called yumejoshi, while those who prefer male-oriented romances and stories are called fujoshi.The founding twins are 32 years old, a rarity in a country where only 8% of CEO's are female and most of those are in their 60's or 70's.

The Barbizon Hotel was founded in 1927 in New York City as a residential hotel for women. It went on to house guests like Liza Minnelli, Sylvia Plath, Grace Kelly, and Ali MacGraw. Now its story is being told in a new book titled, "The Barbizon, The New York Hotel That Set Women Free", by eminent historian Paulina Bren. HBO has bought the TV rights, with a series in the works.

A woman in Peru has made history by winning her battle over the right to die. Ana Estrada, a psychologist, is confined to her bed and breathes with a respirator. She fought for her right to die with dignity "when the time comes", and will make that decision when she can no longer write.

c. Corinne Whitaker 2021
Be sure to email giraffe@giraffe.com with your suggestions, be they articles, videos, images, cartoons, music, or comments, so that we can share our celebrations and our concerns with each other.