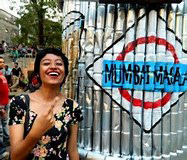 All About Women
Our Woman of the Month Award for August, 2020, goes to Aqui Thami, Founder of Sister Library, which "aims to create a space where women authors can be read, and where people feel comfortable exploring non-conforming literary works. It would be the first community-owned feminist library."

The President of Mexico, as part of his austerity program, has cut back on the budget for women's shelters. The result has been a marked increase in the number of violent crimes against women in that country. Femicides, for example, have increased 7.7% in the first 6 months of this year. The government's response to the pandemic has also included a 75% cut to the federal women's institute. In addition, the National Network of Shelters says it has received 80% more calls since the pandemic started, while the number of women and children admitted to its 69 shelters has increased 50%.

The San Francisco Giants baseball team has just set a record by hiring Alyssa Nakken as the first woman to coach on field in major league baseball. Nakken was formerly a star in college softball and took her place as a first-base coach in a game against the Oakland Athletics. She has worked with the Giants organization for six years.

The International Monetary Fund is reporting that the covid pandemic is on target to weaken 30 years of gains in women's economic progress. Women tend to do more unpaid housework and, in many countries, receive inadequate schooling. The Department of Labor is urging policy changes to prevent permanent damage to women's ability to prosper economically.

A recent lawsuit against Google claims that women have missed out on thousands of dollars of compensation due to discriminatory employment practices that push females into lower-paying jobs. Originally filed in 2017, the lawsuit has been amended as a class-action, covering 10,800 women who have worked at the company since 2013.

Ester Baiget has just become the first woman CEO of a major biotechnology firm. After working at Dow Chemical for a quarter century, Baiget is now CEO of Novozymes A/S, a Danish company that "makes the enzymes that go into everything from personal hygiene products, to wine and pharmaceuticals." One of her goals is to make the company more cost-effective so that money goes into strong areas and does not support failing projects.

The United Arab Emirates is about to send its first space mission to Mars, and the project is being led by a woman. Sarah Al-Amiri will be the scientist in charge of Project Hope, which has been in preparation for six years. The effort is intended to study weather patterns and climate. Until now, the UAE has only launched probes into earth's orbit. With help from scientists in the United States and utilizing a Japanese rocket, the space probe will take 7 months to reach Mars.

You may have read about the death of Army Specialist Vanessa Guillen, whose body was found about 25 miles from Fort Hood in central Texas. Her dismembered remains were apparently the work of a fellow soldier, who killed himself as the police were closing in on him. He in turn seems to have been aided by his girlfriend. According to the Defense Department, there were 7,825 reports about assaults in the military in 2019. Military culture makes it extremely difficult to report an incidence of violence; bringing anyone to account is well-nigh impossible. Public outcry, as well as a shift in society at large, are trying to change the narrative from "you should have known going into the military" to "this is an outrage. Let's make sure it never happens again."

As calls for increased diversity in Hollywood gain traction, Warner Bros. has cast its first Black Batwoman. Javicia Leslie will fill that role on television. Elsewhere, Halle Bailey will be featured as Ariel in Disney's adaptation of The Little Mermaid, and Pakistani-American actor Kumail Nanjiani will have a lead role in Marvel's The Eternals. The path was lit by "Hamilton" on Broadway, with several nonCaucasian actors playing the roles of our nation's Founding Fathers.

The WNBA will feature special uniforms this season to focus attention on the deaths of women and girls by acts of violence, racism, or police brutality. Warm-up shirts will say "Black Lives Matter" on the front and "Say her Name" on the back.

c. Corinne Whitaker 2020
Be sure to email giraffe@giraffe.com with your suggestions, be they articles, videos, images, cartoons, music, or comments, so that we can share our celebrations and our concerns with each other.