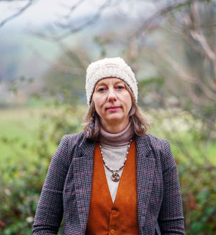 All About Women
Our Woman of the Month Award for January, 2020, goes to Gail Bradbrook, founder of Extinction Rebellion, whose courageous stance on the devastation caused to the planet by climate change has ignited a community challenge to governments in denial.
Note: Woman of the Month now has its own page in the giraffe.com archives section.
Buddhist nuns in Nepal are learning deadly martial arts in their fight for women's rights. The nuns reside at the Amitabha Drukpa Nunnery outside of Kathmandu and proudly call themselves the Kung Fu Nuns of the Himalayas. Traditionally the Drukpa Order follows the precepts of Himalayan Buddhism, which considers women second-class citizens. According to their tenets, a woman must be reborn as a man in order to receive spiritual enlightenment. In fact discrimination against women is rampant in Nepal. Young women are felt to be a burden and are often aborted. Those who live have diminished access to education or health care and are frequently sold off and become victims of domestic violence. On the contrary, the spiritual leader of the Drupka faith decided to promote nuns to leadership spots beginning in the early 2000's. The resistance to his teachings was fierce, resulting in harrasssment against the nuns. Drukpa felt that kung fu training would offer confidence and self-esteem to the nuns. With a demanding physical program, the women train for 3 hours with swords, run up and down stairs, learn to break bricks with their hands. They also organize bi-yearly bicycle trips over thousands of dangerous miles between Kathmandu and India, stopping at small villages to emphasize the worth of young women and the dangers of human traffickiong.

Ethiopia has been trying to eradicate child marriage for almost 20 years, and yet it still has the 15th highest rate in the world and the 5th highest total number of child brides at more than 2 million. The country has recently that it will try to eradicate child marriage by 2025 and has also aigned the Unted Nations goal to end child marriage by 2030. Marriage prior to age 18 is thought to be a human rights abuse by many, including the United States and the United Nations, although it continues to be a problem world-wide. Even in the United States, attempts to enact a federal ban have been stymied - 250,000 children were married between 2000 and 2010. Some progress elsewhere has been noted: Norway, for example, banned the practice last year; while in 2017 in Indonesia, female Islamic clerics issued a decree or fatwa against child marriage.

Astronaut Christina Koch just set a record for the longest period of time spent in space by a woman. As of December 28, she had spent 289 days in space and is scheduled to return in February 2020. Koch had set a previous space record when she and Jessica Meir performed the first all-female spacewalk outside of the ISS (International Space Station) - that walk lasted 7 hours and 17 minutes.

The Guardian reviewer has given a 5 star rating to an album called "Songs of our Native Daughters". The works were inspired by the 2016 film "The Birth of a Nation" in which the rape of a female slave emphasized the reaction of the husband rather than the woman herself. The lead musician, Rhiannon Giddens, has written about the African American woman: "Used, abused, ignored and scorned, she has in the face of these things been unbelievably brave, groundbreaking and insistent. Black women have historically had the most to lose, and have therefore been the fiercest fighters for justice."

Domestic violence in the military is illuminated in an article titled "This is What it's Like to Survive Domestic Violence in the Military". the article features first-hand accounts of how the abused women are treated. Sometimes civilian courts are required to offer relief, when the military justice system fails. Complaints by the women are often turned against them as the men accuse the women of ruining their careers by talking. Even other women are prone to criticism. One woman stated, "The abuse at home has declined somewhat but it hasn't stopped completely. The fact that my husband keeps two guns in the house makes me nervous."

Singer Linda Ronstadt has revealed that a rare brain ailment ended her career. Similar to Parkinson's Disease, the condition called progressive supranuclear palsy produces loss of motor control, difficulty in maintaining balance, and controlling speech, eye movement and mood. Ronstadt recently received an award at the Kennedy Center Honors ceremony. A new CNN Film documentary called "The Sound of my Voice" is being aired on New Year's Day at 9 p.m.

Finland has just chosen the world's youngest Prime Minister (34) to head their female-led cabinet. Sanna Marin's Finance Minister is 2 years younger than she.

A game between the Golden State Warriors and the Chicago Bulls saw the first mother in NBA history to referee a basketball game. Lauren Holtkamp-Sterling had worked in the League for 5 years prior to this game.

The San Francisco Opera has just appointed its first female music director. Conductor Eun Sun Kim at age 39 will conduct Beethoven's "Fidelio" at the opening of the 2020-21 season. Kim joins Yannick Nezet-Seguin who just became music director at the Metropolitan Opera in New York, replacing the 40-year tenure of James Levine who was fired after accusations of sexual misconduct.

Arch Daily has named the 10 most overlooked women in the field of architecture. The women tended to be overshadowed by feted male architects.

The Indian Navy has just named its first female pilot in a breakthrough for that country's armed forces. Sub Lieutenant Shivangi finished her basic training in 2018 at the Indian Naval Academy. Until 1992, in fact, India's naval forces would only allow women to participate in medical units.

c. Corinne Whitaker 2020

Be sure to email giraffe@giraffe.com with your suggestions, be they articles, videos, images, cartoons, music, or comments, so that we can share our celebrations and our concerns with each other.