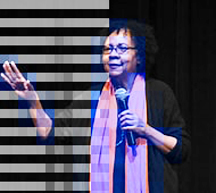 All About Women
Our Woman of the Month Award for January, 2022, goes to bell hooks, trailblazing black feminist, poet, scholar and social critic. Time magazine called her "a rare rock star of a public intellectual".

Sarah Biffin was a 19th century artist born without arms or legs. She was born in Somerset, England, in 1784, and from the age of 10 taught herself to draw, sew, and paint using her teeth, mouth and shoulders. She showed off her skills by performing with a circus, advertised as the "limbless wonder". Thanks to a patron she was able to attend the Royal Academy of Arts and was commissioned to paint portraits of members of the Royalty.

Under a new law banning noise pollution, China's Dancing Nannies are facing sharp restrictions on what they can do. For many years their provocative acts included throwing insults at teenagers, and taking over parks and community squares to dance and provoke. The women are middle-aged and retired. Known as "Big Mothers", they would wave scarves, blast their radios, and jitterbug. Their noisy antics have been both admired and reviled by residents who resented the noise.

L'Auto, as Paris' Automobile Club is known, has always refused to admit women members. As more women enter the ranks of top executives in the automobile industry, that policy is coming under increased scrutiny. The current President of L'Auto, Louis Desanges, has steadfastly refused to alter the policy. The Club sees itself as a prestigious social institution, hosting meetings, events, and conferences. Women are allowed to borrow books and have lunch with friends, but they are denied access to some areas, including the famous underground swimming pool. Elisabeth Young, co-founder and president of Women and Vehicles in Europe (WAVE), states "Having a club like this, stuck in the 19th century and closed off to women, detracts from all the efforts made by the industry to open up to women". L'Auto's rules do not bar women; rather tradition dictates that it takes two members to propose them, and no one ever has.

Supermodel Karen Elson has opened up the toxic environment of modeling for public display. She states, "I survived harassment, body shaming and bullying – and I'm one of the lucky ones". When she was young and new to the industry, a fashion scout told her, "I'll fucking get you kicked out of Paris if you ever fucking say anything ever again." Lawsuits are beginning to be filed against modeling agencies, alleging years of abuse. Elson notes that lack of transparency, international travel, and an off-balance power structure have enabled the toxic system to thrive: one young woman in eastern Europe found her passport had been confiscated when she tried to leave the modeling agency. Elson has been holding workshops and meetings to try and warn women about the realilty of modeling vs its supposed glamour.

Keechant Sewell has just been named the first woman to head the New York City police department. Previously the Chief Detective in Nassau County, Sewell served in that department for 23 years. Her appointment was announced by Eric Adams, incoming mayor of New York City, who was himself a former police captain. Chief Sewell will oversee roughly 35,000 uniformed police in New York City. She will also become the 3rd black commissioner to hold this post.

A new book brings to light the work of ignored female writers who have edited the works of Shakespeare. Called "Lady Editors", the identities of the women are derived from wills, letters, diaries and contracts formerly ignored by the male-dominated historians of the Bard's writings. Independent scholar Mary Yarn, associate editor of the Royal Shakespeare Company's new edition of the complete works, expected to uncover perhaps 30 forgotten women editors. Instead she has described 69 of them and expects to discover many more. Yarn writes, "We have a long way to go to improve diversity among editors in terms of race, nationality, religion, sexuality, disability, gender identity, economic and educational background, institutional affiliation, and more."

Walt Whitman High School is known as one of the most prestigious institutions in Maryland. It regularly sends its graduates to top universities like Yale, MIT, and Brown. Now 7 of their recent graduates have drafted a letter which they hope will result in the firing of their social studies teacher and head coach of the award-winning rowing team. Kirk Shipley was a 3-time winner of the All Met Teacher of the Year. In their letter, the young women want to warn other potential rowing candidates of the unhealthy environment they claim is rampant under the Coach's leadership. They wrote that Shipley had created "a toxic, competitive atmosphere that fosters negativity and tension among the athletes. ... He very clearly plays favorites, and when athletes spoke up or criticized his actions, their boat placement was often affected. This could be seen all three years we were on the varsity team." In 2018 Shipley had been similarly charged, but he excused himself by saying that a highly competitive sport like rowing necessarily raises anxieties in the players. Subsequent rumors about Shipley having a sexual relationship with a student had been ignored by the school and the county child welfare authorities. Recently, District of Columbia police arrested Shipley with charges of first-and second-degree sexual abuse of 2 former Whitman rowing students.

3 months ago Norway's women's beach handball team was fined for wearing shorts instead of the required bikinis, as we reported to you then. Now the International Handball Federation has amended its rules to require instead "short tight pants with a close fit" and "a body fit tank top". Although the tight-fitting language still applies only to females and not to males, the women players appear to be satisfied with the changes.

Bistro Aracostia is a restaurant in the Washington, D.C., area run by a family of women protesting the subjugation of women under the Taliban in Afghanistan. Although all 3 of the women were born in the United States, their family escaped from the Russian invasion of Afghanistan in 1981. In recognition of the freedoms granted to them by their life as Americans, they now are operating 3 restaurants, one in McLean nearby and one in Springfield, Virginia. They had learned traditional Afghani recipes from their parents: upon the fall of Kabul, it was their father who decided to staff all of the restaurants with women only. Their grandmother designed the menus with items from pre-Soviet dishes passed down through the generations. Omar, their father, willligly and deliberately faded into the background as a metaphor for the invisible roles imposed on women under Taliban rule.

According to the Washington Post, women doctors earn 2 million dollars less than men during their careers. The statistics were reported in the journal Health Affairs, which revealed that the pay disparity began in the first year of practice. The study focused on location, patient volume, specialty and hours worked. It did not look into race or identities. Other studies have come to the same conclusion.

Researchers in Northwest Italy have unearthed the first female human baby burial in a richly decorated site inside of a cave. The infant, less than 2 months old, was accompanied by 6 shell beads, 4 pendants, and an eagle-owled talon. The discovery dates to the middle period of the Stone age, and sheds light on the hunter-gathering culture's treatement of its female members. The group was able to use the infant's teeth to suggest that she had died roughly 50 days after her birth. They also concluded that her teeth had stopped growing before she was born. The ornaments indicate that she was given status: absent the gender identification it would otherwise have been assumed that she was male.

The estate of George Orwell has given permission for a feminist retelling of Orwell's novel "1984". The rewritten tale will be told from the perspective of Julia, Winston Smith's lover. The new novel will be called "Julia". This quote from Orwell's original is telling: "In some ways she was far more acute than Winston, and far less susceptible to Party propaganda … She also stirred a sort of envy in him by telling him that during the Two Minutes Hate her great difficulty was to avoid bursting out laughing. But she only questioned the teachings of the Party when they in some way touched upon her own life. Often she was ready to accept the official mythology, simply because the difference between truth and falsehood did not seem important to her."

Sarah Breedlove, known as Madam C.J. Walker amassed a fortune by producing a line of cosmetics and hair products for black women. She was also a patron of the arts. Born in Louisiana in 1867, she saw her brothers sold into slavery. She herself was spared that fate by the enactment of the Emancipation Proclamation. Initially she sold her products door to door, showing black women how to care for and style their hair. Eventually her company employed several thousand female salespersons, and by 1917 she had 20,000 employees. She also taught women how to manage their finances. At a national conference she said, "I am a woman who came from the cotton fields of the South. From there, I was promoted to the washtub. From there, I was promoted to the cook kitchen. And from there, I promoted myself into the business of manufacturing hair goods and preparations. I have built my own factory on my own ground."

You may have heard of the North Carolina teenager who was rescued from being kidnapped by using a hand signal she had learned on Tik Tok. The gesture came from the Canadian Women's Foundation and was meant for women in abusive situations to signal their distress. The teenager had been reported missing 2 days before. Thanks to her use of the gesture in the car window, and the response of several drivers who saw her, the police rescued her and arrested the kidnappers. The gesture is worth remembering, and passing along.

c. Corinne Whitaker 2022
Be sure to email giraffe@giraffe.com with your suggestions, be they articles, videos, images, cartoons, music, or comments, so that we can share our celebrations and our concerns with each other.