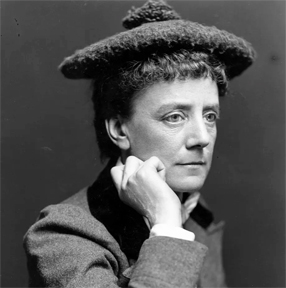 All About Women
Our Woman of the Month Award for August, 2022, goes to Ethyl Smyth, composer of the opera, "The Wreckers". Smyth was known as "a feminist composer of phenomenal talents", as well as a "complex, unstoppable radical".

The fastest female marathoner in America is 37 years old and a mother of 2. Remarkably, an injury forced Keira D'Amato to retire from the sport 14 years earlier, yet now she has completed the Houston Marathon in 2 hours 19 minutes and 12 seconds, shattering a record that has stood since 2006. Her home gym has been dubbed "The D'Amato Pain Cave". Her coach feels that she has moved on from a "solid runner" when she was in her 20's to an "elite marathoner" in her 30's. She still puts her family's needs first. But she has her eye on world championships.

"Ulysses", by James Joyce, has been declared "one of the greatest novels ever published". It is now entering its 100th year since publication. Joyce's drinking became such an issue when he was writing that his benefactor, Harriet Shaw Weaver, tried to lure him away from alcohol, but he replied "My head is full of pebblies and rubbish...I want to finish the book and try to settle my entangled material affairs. After that I want a good long rest in which to forget "Ulysses" completely". Now 2 exhibitions attempt to celebrate some of the women who were essential to the novel's success: Sylvia Beach, through her bookstore in Paris called Shakespeare and Company; Margaret Anderson and Jane Heap, who serialized the novel in the United States; and Weaver, who served as Joyce's literary executor after he died. Weaver's support translated into $1.7 million dollars in today's terms. Anderson and Heap were sued for obscenity because they published chapter 13 in their literary journal. Their comment: "This is the most beautiful thing we'll ever have to publish." (They were threatened with prison if they published the novel again.) It is unclear whether Joyce ever understood how important these women were to his success but the story of their devotion to him is fascinating.

Some 1,600 year-old mosaics have been discovered in an ancient synagogue in Israel with images of 2 Biblical heroines. The stories of Deborah and Jael, told in the Old Testament's Book of Judges, were unearthed in Israel's Lower Galilee. The synagogue was built between the 4th and 5th centuries, as described by an archaeologist at the University of North Carolina at Chapel Hill. The project, now in its 10th year, has been worked on every summer. It has uncovered evidence of Moses' spies, a rendering of Noah's Ark, and a depiction of Alexander the Great.

A humanitarian effort has emerged to treat victims of rape in Ukraine. Psychologist Spartak Subbota has been treating women who were subjected to sustained terror, ranging in age from 14 to 30, noting that these women lose their will and their sense of self. Subbota realized the extent of the evil being perpetrated, leading to "maximum barbarity". Rape as a weapon of war has been seen before, notably in ethnic cleansing, but few psychologists were prepared for the extent of sexual violence now taking place.

Female long-haul truck drivers lead difficult lives that have not received much publicity. Now the Guardian newspaper is offering a photographic essay illuminating the hardships endured by these women. They have to protect their physical safety constantly, prove themselves daily, and take extra precautions for their health. The results of the study are being published as "Sisters of the Road", recounting the experiences of 40 women truckers. One driver started a group called "SHE Trucking" and was astonished at the number of women who signed up. These are stories of courage, persistence, and independence.

Sandra Douglass Morgan has just been named the first Black women to be team president in the National Football League. Morgan was hired by the Las Vegas Raiders. Previously she was the first person of color to be in charge of the Nevada Gaming Control Board.

Have you ever heard the phrase "ducking stools"? They were used from the 17th century at least until the 19th century in England on women who "spoke ill" of their husbands and were considered a "common scold". In one case, Jenny Pipes was strapped in irons to a wooden chair, paraded through the town of Leominster, and immersed in water. Her punishment was to be plunged into the water until she was cured of her "immoderate heat". Pipes was the last woman to be treated this way, although it is reported that the punishment took place as well in Scotland and colonial America. Brewers of "bad beer" and bakers of "bad bread" were also subjected to ducking. It seems that silencing women's voices has been going on for longer than we suspected. The process was repeated in trials of witches - women who were bound and thrown into water to see if they would float. Those who sank were deemed innocent but most likely died. It was not until 1967 that the crime of being an outspoken female was taken off the books in England.

Maria Alyokhina, a member of Russia's "Pussy Riot", is no newcomer to regime resistance. Her latest statement reads, "We have a new Hitler in Russia". She was able to escape to Iceland, but not until she had been beaten and jailed numerous times. One of the accusations against her was for "violation of sanitary and epidemiological rules". In other activities of protest, she made 10,000 euros selling T shirts, with the funds going to a children's hospital in Ukraine. Arrested for "hooliganism" with 2 other women in 2012, she continues to protest against aurhoritarianism in any form. She now figures she has been arrested more than 100 times. She reports of "concentration camps" for gay men in Chechnya, and of almost daily talks of using nuclear bombs on countries like the U.K.

Male members of Parliament in the U.K, decided to find out for themselves just what menopause really feels like. They tried out a vest with heated pads that recreate the sensation of hot flashes. One of them commented, "It's deeply unpleasant and an enveloping heat. How you would crack on with life I don't know. I can't wait to take this off."

In 1805 an English artist named Mary Gartside publshed an extraordinary book called "An Essay on Light and Shade, on Colours, and on Composition in General". Ignored by history like many brilliant women, her writing was enhanced by abstract images of color blobs, reminding one of the work of Georgia O'Keeffe a century later and more than 100 years before the success of non-figurative painters like Mondrian, Kandinsky and Malevich. Gartside used titles like "green,", "scarlet", "yellow" and "violet". Alexandra Loske, an art historian, has commented, "There is no other example of a representation of colour systems that is as inventive and radical as Gartside's colour blots". Loske herself has devoted her career to rediscovering the achievements of women artists and writers ignored by history. It was only by chance that she came upon the few known details of Garside's life.

Concern over the tracking of women's menstrual data on the Internet and even of looking for search topics has prompted some guides for keeping your personal information private and safe from potential prosecution. Even missing your period, while not criminal, could be a cause for subpoena and potential criminalization. Most companies, even those promising total privacy, are in fact ambivalent about whether they would turn over digital footprints to authorities. This article from the M.I.T. Technology Reivew has suggesions for keeping your data away from prying eyes and yet maintaining important records for yourself.

It is shocking to learn that the United States has the highest mortality rate of all the developed nations. In the year 2020, it appears that 861 women succumbed to childbirth or pregnancy-related problems. Further, black women are 3 to 4 times more likely to die of pregnancy-related issues than white women. Yet the CDC tells us that 60% of pregnancy-related deaths could have been prevented. After extensive research, a new film called "Aftershock" reports, "No matter who you are, no matter where you come from, as a Black woman in the United States, if you say that you don't feel well, that something is wrong, you are not being heard". The recent Roe v. Wade decision by the U. S. Supreme Court is expected to severely increase the death rate.

c. Corinne Whitaker 2022
Be sure to email giraffe@giraffe.com with your suggestions, be they articles, videos, images, cartoons, music, or comments, so that we can share our celebrations and our concerns with each other.